About Kim

I am a certified Google AdWords partner who has managed international, million-dollar AdWords budgets as well as small-business AdWords campaigns that only spend a few hundred. I have managed PPC clients in such varied sectors as telecom, text messaging, tennis camps, gold collecting, and restaurants. I credit my success with clients to my ability to explain complex ideas and break them down into easy-to-understand, actionable concepts.
I am a graduate of the VCU Brandcenter (MS, Advertising Copywriting) and Syracuse University (BA, Advertising, Political Science, and French). I also serve as VP Marketing of the Syracuse University Alumni Club of Southern California and am a member of Mensa. With over a decade of advertising experience, I am eager to work with your business to provide results like the case studies below.
Kim has undergone extensive, advanced Google Adwords training and managed to successfully run a five-figure campaign budget getting the results we need by making her own judgments along the way. She has a very keen eye for detail and knows how to make consistent improvements that produce revenue.
- Rob Sherman, TollFreeForwarding.com
Results
I began working with CallFire in December 2010. Then, conversions through PPC were not being tracked, clickthrough rate (CTR) was a meager .1% (one-tenth of one percent), and anywhere from $80,000-$115,000 was being spent every month on paid search.
One of my first initiatives was to implement Conversion Tracking. I also cut out a lot of waste by reorganizing the campaigns, testing ad copy, and optimizing keywords. Later, I introduced Remarketing to increase the efficacy of the Google Display Network.
As of November 2011, campaigns are converting at 7.55%, with an overall clickthrough of 1.91%, all the while spending less each month (approximately $70,000).

Another one of my clients trusted me with their international PPC efforts. In the span of one month, conversion numbers more than tripled (350 vs. 105), cost-per-click was nearly halved, and cost per conversion was reduced by 61%. I also helped this client implement Google Product Extensions by setting up a Google Merchant Center account.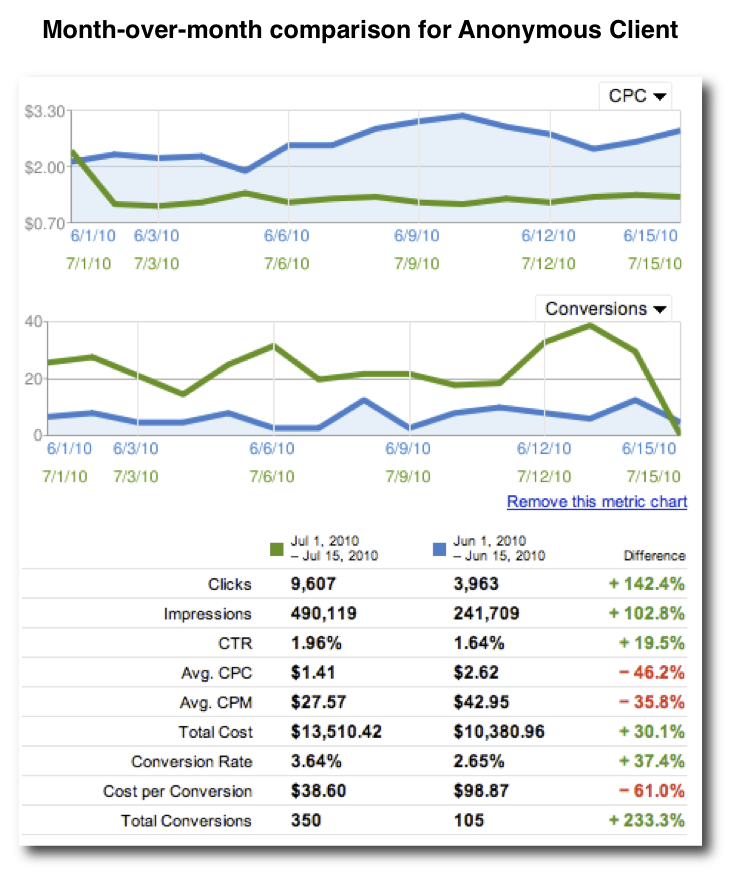 Here's another case study:
Jewish people are actually more susceptible to gluten intolerance (celiac disease) than the population at large. So a client of mine, GlutenFreeMatzo.com, offers a specialty product to address their needs. In the run-up to Passover, I implemented search and display campaigns offering their matzo and a gluten-free Passover cookbook.
During March 2012, our efforts netted the following results:
• The matzo campaign achieved a 4.13% CTR and a 7.08% purchase conversion rate.
• The cookbook campaign achieved a 1.83% CTR and a 10.59% purchase conversion rate.
• The display campaign targets two types of content sites: gluten free websites and Jewish websites. They experienced a 4.67% conversion rate and a 3.22% conversion rate, respectively — very high for the Display Network.
• The remarketing campaign achieved a 13.25% conversion rate among people who had visited the site but abandoned before purchase.
• All our marketing efforts resulted in over $100K in matzo sales in one month.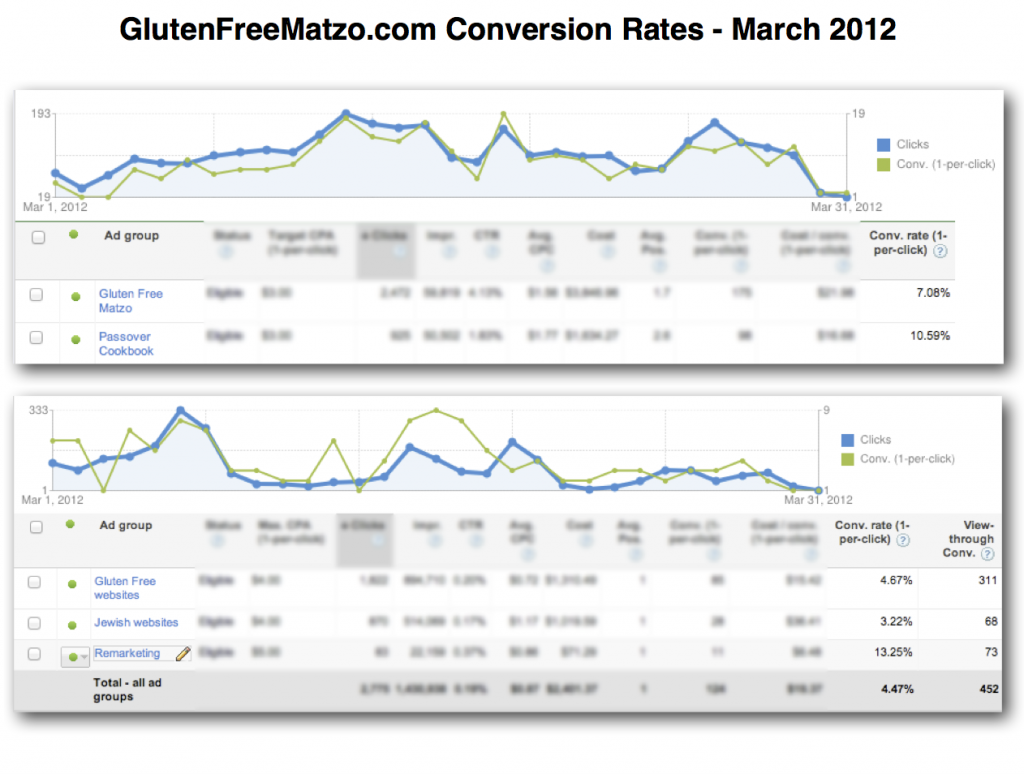 What about Bing?
Yup, I do that too. Bing, however, does not provide the detailed reporting of Google, so the only metrics you'll be able to see are clicks and impressions. Google Analytics will give some further insight into Bing, but it does not separate traffic from paid Bing adCenter ads and organic Bing results. In addition, because traffic on Bing is so much smaller than on Google, I always recommend clients optimize their Google account first, and then duplicate the successful campaigns into Bing. Because of less traffic, you can usually expect to pay less per click on Bing than you would on Google.
Partial List of Clients
Brady Tennis Camps
CallFire
Equipatron.com
GlutenFreeMatzo.com
Menuism
Mint State Gold
PickFu
TollFreeForwarding.com
The Wedding Lens