I recently downloaded a 30-day free trial of Raven Internet Marketing Tools. Raven Tools are a suite of various SEO, social media, and advertising tools, neatly packaged in one tidy user interface.
If you're like me, you might use a whole host of tools marketing your business in the course of a single day. My arsenal includes Google Analytics, MailChimp, HootSuite, WordPress, AdWords, YouTube, Twitter, and Facebook. All of these (and a few more) can be housed in a single Raven Tools UI, where you can go tab to tab checking on your progress and stats. It's much more convenient and easily digestable, especially because once you give Raven access to these various tools, you only need a single login. And depending on the pricing plan you choose, you could share your account with up to eight unique users, so you're all looking at the same data. Raven even has an iPhone/iPad app, so you can check your stats on the go.
But is it really worth the price?
The Pro plan is $99 a month, and includes management of unlimited websites, Facebook, and Twitter accounts, 20 social monitor searches, 1,000 keyword rankings, and 50,000 managed links. The Agency plan ($249/month) accomodates up to 8 users and allows for more social monitor searches, keyword rankings, and managed links.
The answer will be different for various kinds of businesses. For one, if you use several of the paid services included with Raven, it may make sense to consolidate, and pay a single entity each month. For instance, Raven's Research Assistant, which checks on competitor data and keyword information, is powered by SEOMoz (which starts at $99 a month) and SEMRush (which starts at $69.95 per month). Raven's Social Monitor, which searches social networks for your keyword phrases, is powered by uberVU, which starts at $499 a month. So if you're paying for several of the tools and not using each to its fullest extent (that is, enough to justify a full-fledged account on any given tool), a solution like Raven's might be more cost-effective.
Another strength of Raven is the ability to manage an unlimited amount of domains. Because I juggle several clients, that might be more useful than, say, if you're a small business owner only concerned with your own website.
I think another thing you'll want to ask yourself before you commit to being a paid customer is what you will be using Raven for. If you're doing SEO and building and managing links, that seems to be the suite's greatest strength. Raven can help you track your rankings, look for potential links, and keep an eye on your competitors. A few weeks ago Search Engine Land posted a review of Raven's SEO tools specifically. The reviewer seemed most impressed with Link Manager, which lets you save pages/links you're interested in and assign tags for follow-up. I personally don't involve myself in a lot of link building, so the SEO tools, while insightful, wouldn't be all that valuable to me beyond the initial findings.
I mostly work on the PPC and social media side. So what does Raven have for me?
As far as PPC, you're able to see an overview of your AdWords account including basic information like clicks, impressions, cost, etc. If you find the Analytics dashboard intimidating, the Raven dashboard is far more streamlined, stripping out the more granular data completely. Beyond basic reporting, however, you can't make changes to your campaigns (except to turn them on and off), adjust your keyword bids, or tweak your settings. You can create a new campaign from the Raven interface, but it would actually be simpler to do it directly from your AdWords account, or by using the AdWords Editor. In addition, as of now AdWords is the only PPC platform incorporated into Raven, though I imagine over time that will change.
What about social?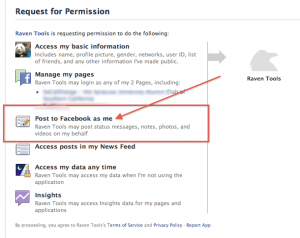 One of the first things that turned me off was that when I went to integrate a company's Facebook page, Raven requested permission to "Post to Facebook as me." This, in my humble opinion, is one of the most vile marketing tactics a company can use. I have found, however, that you can go back into your Facebook account settings and remove this specific permission. (Facebook > Account Settings > Apps > Raven Tools)
The nicest feature I find with almost any social media tool is the ability to pre-schedule posts or tweets for later, and Raven allows you to do this. However, I still prefer HootSuite because it enables you to post the same update to Twitter and Facebook simultaneously, rather than requiring you to post it on both networks separately. HootSuite Pro will also allow you to do a bulk upload from a .CSV, provided none of your posts are duplicates.
I do like how Raven handles Facebook replies, however. Oftentimes in the Facebook UI I forget to post as the page rather than as my personal profile. I find myself deleting my "Kim" posts a lot, and having to re-post as the page. Raven takes that hassle away. Another thing I like is the ability to customize your Twitter URLs by assigning custom Google Analytics Campaign Variables, including UTM Source, Medium, and Name, though this feature is not unique to Raven. The default URL shortener in Raven is is.gd, but you can use bit.ly, goo.gl, or a custom shortener if you wish.
Reporting
One of the features that I think Raven does really well is the reporting capability. All of the various tabs within the interface can be easily translated into customized PDFs. This is helpful if you email reports to team members or want to keep records easily. Culling all the information within Raven could potentially take hours, but the Report Wizard is instant and the end result is professionally put together and well presented.
Conclusion
Anyone can try Raven free for 30 days. I recommend you do so to give it a test try. It will also give you a lot of insight into your keywords, traffic, and ideas to expand your efforts. Even if you don't end up paying for the service, that information is a valuable resource.
At this juncture, it seems Raven Tools is mostly suitable for SEO. It is a well-designed and easy-to-use product, so I can certainly recommend it for usability. But if you're mostly looking to manage PPC, email, or social media, it probably isn't worth the monthly fee.