Almost a year ago, I saw a headline on Twitter proclaiming there was now a Groupon of Small Business. The link led me to GroupPrice.com, a site which aimed to take the daily deal model and focus it towards small business owners.
The company I was working for at the time was largely focused on the small business market, so we decided to give it a shot. GroupPrice was clearly new then; it wasn't all that attractive, and the deals were sparse. But the risk is minimal, as you don't have to put any money down, and GroupPrice only takes a cut of the deals it actually sells. So we offered a deal which cost the user $50 for $100 worth of service.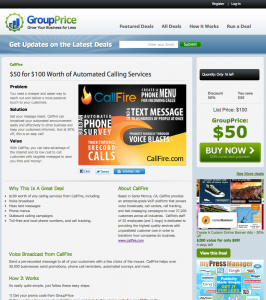 On first pass, the deal was featured for a week, and only two people bit. Nothing lost, really. As with any deal site, you have to be aware that this isn't going to be a revenue generator; it's a lead generator. The hope is to get new people to try your service, and then to hook them into repeat business. Remember, you're going to have to cut your regular prices by at least half, and then, in addition, the site will take a percentage. So in the end, you're offering your service for less than half of what you would normally charge.
This past fall, GroupPrice changed its deal model slightly. Deals can now live on the site for either a specified amount of time, or until a specified amount of deals are sold. This gives the vendor control over how many discounts it's willing to give away, or for how long.
I even had the opportunity to meet with GroupPrice's CEO and founder, Van Jepson, last August. He is a nice guy, a smart guy, and was kind enough to be a speaker at a conference I was organizing. GroupPrice had just been named in Entrepreneur Magazine's Top 100 Brilliant Companies, which was a nice win for them. Meeting Van inspired us to run the deal again to see if we'd find more success. And on the second go-round, we did.
Each month, GroupPrice continues to grow its user base and merchant offerings, so for a vendor, it's kind of a win-win. As long as you're realistic about the traffic you can handle at the discounted rate, you'll only reach more people who you may not have reached before. Services offered on GroupPrice run the gamut of printing services, IT support, stock photos, video editing, social media monitoring… anything that might benefit the small business owner. If your business fits that category, consider running a deal on GroupPrice.com.
Tips to consider before running a GroupPrice deal:
Offer goods or services that are easily understandable. Make sure they don't require an assisted sales explanation or a long sales cycle.
Speak to a business problem that your company can solve, and that can be implemented with little time or effort on the customer's part.
Choose an offering that's under $300. GroupPrice says a good rule of thumb is to offer a price that is 10% of your Customer Lifetime Value.
Have a mechanism in place on your end for redemptions received through GroupPrice, whether that means creating unique referral codes or training your employees on the deal. This way the customer's first touch point with your business is a positive experience.
If you have a video or a relevant image to include, your GroupPrice landing page will be all the more appealing.
To post your own deal, visit GroupPrice.com